Since I've spent much of the last few months writing, I neglected to put up my Booket Lists for both April and May. In addition to the words I was putting down on paper, part of that stems from the fact that one of the books I read in April (I'm looking at you, Stephen King) was absurdly large, and I didn't want to create a Booket List with so few titles. Hence, I made up for it by reading a poopton in May.
You're welcome.
The Walking Dead Volume 4, by Robert Kirkman
Again, the spiral of darkness continues. The more I read of The Walking Dead, the more it seems like the showrunners just don't quite have the guts to dig into the mire the way Kirkman does. Michonne is introduced in this volume, Rick embraces the darkness and the Rick/Tyreese feud explodes into fists of fury. Why wasn't this show made?
11/22/63, by Stephen King
I haven't read much Stephen King, but I imagine 11/22/63 will be a hard one to top. To put it frankly, this book is spellbinding, and just happens to be one of the better books I've read in the last couple of years. Here, King dives into time travel, sending hero Jake on a mission to stop the assassination of JFK for a variety of reasons. The only problem is that the past doesn't want to be changed.
The Crown of Embers, by Rae Carson
If you read this blog at all, then you're aware of the fact that I had some major reader love over Rae Carson's spectacular GIRL OF FIRE AND THORNS recently. As a follow-up, Crown is quite possibly even better than the first, and doesn't suffer from second-bookitis, a proper technical term brought on by some kind of writerly voodoo. In Crown, Elisa steps into her role as queen, has to face assassins at every turn, and travels to the ends of the world for a power unlike any she could ever imagine. The book takes just a tad bit to get rolling for my liking, but it does not let up once it does, and does what any good sequel should do — continues to change the main character.
Soon I Will Be Invincible, by Austin Grossman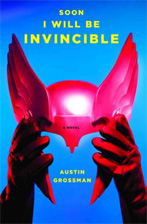 SOON is a fantastic book about superheroes that manages to turn the genre on its head — by looking at them through the lens of bullying. Dr. Impossible is a supervillain bent on taking over the world, but unfortunately the strong, sexy, and virtually unstoppable Justice League equivalent keeps stopping him dead in his tracks. This book is about as funny as it is smart, and also manages to feature some killer action sequences.
Goliath, by Scott Westerfeld
GOLIATH wraps up Westerfeld's brilliant trilogy that combines steampunk and World War I in the best ways possible. As much as I love the series and the two main characters that Westerfeld creates, I have to say that the third entry might be its weakest. It ends well enough, and the love story that's been brewing finally tips its hand, but the climax certainly didn't feel like it was firing on all cylinders, and actually separated our two main characters, who sing so well when they're together.
Masked, by Lou Anders
Can you tell that I've started my superhero research? MASKED is a collection of short stories all about super heroes and villains. I haven't read a short story anthology of any kind in a while, and these scenarios were the perfect small scale tales for larger than life powers. There's the story of a superhero who ingests other heroes to take their powers, a prison break to take down the world's greatest hero, a boy who dons a mask and tries to be a vigilante, and a man who can survive in the vacuum of space.
You, by Austin Grossman
After starting SOON, I almost immediately purchased YOU, Austin Grossman's newest book, which happens to be all about video game creation. As a veteran in the video game industry, Grossman provides all kinds of firsthand experience to lead Russell, a new designer at Black Arts Studio who's trying to make sense of his life. At the same time, Black Arts faces its biggest challenge after the death of its founder and the betrayal of its co-founder. Russell loses himself in the making of Black Arts' newest title, and in the process we see a love letter to video games as escapist entertainment. While YOU is phenomenal for almost its entirety, it feels like it rushes a bit to its end, in a way that I'm not sure was totally satisfying. Even still, it's an easy recommendation for anyone that loves video games, and is interested in how they're made.
————
And that's the April/May Booket List. Have you guys read any of these books? Got any thoughts or disagreements with me?